You can now view the 8 minute and 17 second film clip of Harry Greb sparring in it's entirety. I seperated the 8 minute video into 16 smaller Quicktime videos. Just click any of the 16 parts of the video below to see it in Quicktime. IF YOU HAVE TROUBLE OPENING THE CLIPS, JUST DRAG EACH ONE TO YOUR DESKTOP, THEN OPEN IT.
Clip #1- (5.2 mb) April, 1925, New York, NY, Mickey Walker, Jimmy DeForest, and Harry Greb discussing and signing contract. Other men enter and stand behind, including Walker's manager, Joe Diegnan; promother Humbert Fugazy; and Greb's manager, James "Red" Mason.
Clip #2- (1.6 mb) Harry Greb and Mickey Walker standing next to each other with the promoter for their famous fight inbetween them.
Clip #3- (4.1 mb) Close-ups of Harry Greb, Mickey Walker and their promoter for their famous fight.
Clip #4- (1.8 mb) Close-up of Greb smiling for the camera at Philadelphia Jack O'Briens gym. He was training there to get ready for the Walker fight.
Clip #5- (2.7 mb) Greb throwing punches
Clip #6- (2.1 mb) Close-up of Greb's arms
Clip #7- (1.5 mb) Greb with Philadelphia Jack O'Brien.
Clip #8- (3.1 mb) Greb is shadow boxing. This is a good clip to see how he moves.
Clip #9- (2.7 mb) Watch him jumping rope and then Miss Naomi Braden dries him off with a towel.
Clip #10- (5.1 mb) Hitting the punching bag with a crowd watching.
Clip #11- (3.1 mb) Greb's doing sit-ups and other workouts, while Jack is spotting him.
Clip #12- (4.5 mb) Doing stretches
Clip #13- (2.4 mb) Close-up of Greb's face.
Clip #14- (3.9 mb) Greb sparring with Hall of Fame heavyweight.
Clip #15- (3.7 mb) Playing handball with Jack.
Clip #16- (2.2 mb) In a suit!
____________________________________
Greb/Walker Boxing Match 1925
Shown below is an advertisement about showing the filmed boxing match in a theatre. The filmed Greb fight (with all undercards) was being shown as a replay in the theatre with "knockouts shown in slow motion".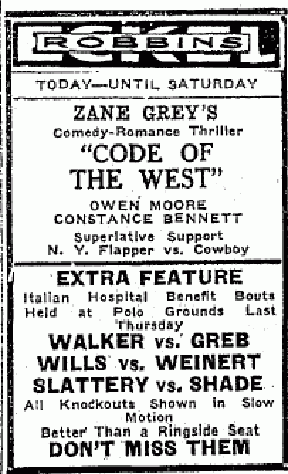 ____________________________________

PEOPLE IN THE VIDEO
The film footage of Harry Greb (8 minutes long) at Philadelphia Jack O'Brian gym, training for his bout with Mickey Walker. You'll see Harry, Jack O'Brian, James "Red" Mason(harry's manager), Mickey Walker, DeForest, and Miss Naomi Braden.


All video content Copyright University Of South Carolina, and presented for promotional use only.

BUY THE VIDEO!!!
You can buy a nice video cassette copy at
http://www.fortunecity.com/lavendar/westbridge/52/boxing2.htm
His e-mail is poche@prodigy.net
I have talked with him and he is being kind enough to offer
a special $10 price for the 8 minutes of Greb training.
(A much sharper image and fluid motion compared to watching RealPlayer)
Shipping and Handling is included.
Send check or money order to the above address.
http://www.fortunecity.com/lavendar/westbridge/52/boxing2.htm

Magazine article taken from.....
Ring Magazine
August 1991
Harry Greb Is Alive
by Stanley Weston
I knew from the quiver in his voice that the gentleman calling on the phone wanted to tell me something he knew would knock my socks off. He was so right.
"They found a Harry Greb film!"
"You're full of you-know-what," I said. "Did you see it yet?"
"No. Not yet. But I'm getting a tape in a few days."
"Good," I said. "Give me a call after you do."
To understand the historic significance of what the gentleman was saying , you need some background. From the day when collecting boxing films became a cult art form, the most astute cult members grew increasingly frustrated when not an inch of film footage of Greb, an immortal of fistic immortals, had been uncovered. Compounding that frustration was the fact that extensive footage had been discovered of dozens of famous boxers, even 19th-century champion John L. Sulliven. As a matter of fact, the very first boxing movies were taken of an exhibition between Jim Corbett and Peter Courtney at Edison, New Jersey, in 1894, which was the year Greb was born. How could there be nothing on Greb?
My old friend, the late dean of boxing film collectors, Jim Jacobs, and I kidded each other for more than a quarter-century about the non-existence of Greb fim footage. Many times I would call Jacobs.
"Hey, Jimbo," I'd say, "You know what the mailman delivered this morning?"
"Don't give me that again," Jacobs would snort, knowing instinctivly that I was throwing him another Harry Greb curve. Jimmy knew I was jiving, but it was still fun.
The last time I saw Jacobs was a year before his death. He had come to our offices in Rockville centre in search of still photos of Stanley Ketchel. He found three pictures that he wanted. I promised I'd have prints made and send them to him. With Ketchel out of the way, we turned, as usual, to our favorite mystic subject.
"If somebody--somebody astute about fight films, not just a guy who knows nothing about collecting--found, say, Greb footage in his cellar or attic, and he called me for a deal, I would trade him anything I have in my collection for whatever he has of Harry greb," Jacobs said.
You can understand why, when i recieved that out-of-the-blue phone call about the possible discovery of Greb footage, why I immediately thought of my dear, late friend. As hopeful as I was that this would not turn out to be yet another Greb false alarm, I had mixed emotions. Wouldn't it be a shame if this was indeed the real thing and Jimmy hadn't lived long enough to enjoy it?
It was indeed the real thing! Remarkably sharp film footage of Greb had been discovered in the archives of a major American University, where it had rested, unnoticed, for about 65 years. You can imagine how tense and excited I was as I sat in the screening room with the young man who had brought me the film, collector Phil Guarnieri, waiting to see for myself wether or not this whole thing was for real. The first thing to fill the screen was the smiling face of Harry greb; the same face I had seen in hundreds of still photo's for more than half a century. But this time the face was alive. The eyes blinked, the head turned, the lips curled into a mischeivous smile. I was astonished and moved to the point of tears.
"I've got to be dreaming. This can't be! Pinch me, phil," I said to the young collector seated next to me. "Tell me I'm not dreaming."
For the next four minutes 43 seconds I was mesmorised, watching the great harry greb punching the bag, skipping rope, sparring with Philadelphia Jack o'Brien, exercising, clowning for the camera, playing handball, and suddenly dressed in the tight-fitting, striped suit of a broadway dandy, with an oversiazed brimmed straw hat and a broad grin on his one-of-a-kind face. (We all have lookalikes, but not Greb. He was a true original.)
To have an opportunity to see harry greb alive and in the prime of life was beyond my wildest dreams, comparable for a fight film collector to seeing Abraham Lincoln delivering the Gettysburg Address or Napoleon bidding farewell to his troops at waterloo. My only regret is that Jim Jacobs was not sitting with me in that screening room the day Harry greb was re-incarnated. Had he been there, years of kidding and teasing would have been erased by less than five minutes of wonderful reality.