Whitey Wenzel
Whitey Wenzel (Otto Wenzel) was a middleweight who originally fought out of the Northside of Pittsburgh. Whitey Wenzel is known for many fights with Harry Greb. Some he won, some he lost and some were draws.
Whitey also fought the legendary Gene Tunney in 1922. This fight took place a month after Tunney won the American Light Heavyweight title from Battling Levinsky. The fight was also 3 months before Tunney lost to Greb in their first bout.
Wenzel fought George Chip in 1921 and won the newspaper decision. This was three months after George Chip fought for the middleweight title against Johnny Wilson. Beating the former middleweight champion was a great accomplishment.
--------------------------------------------------------------------------------------------
---The following is an article from the May 26, 1912 issue of the Pittsburgh Press:
FARMERS BOY HAS MADE GOOD IN PRIZE RING- written by Jim Jab
"WHITEY" WENZEL, OF NORTHSIDE, IS YOUTH WHO CAN BOAST OF RAPID RISE
Rare indeed the instance where a farmer boy falls a victim to the enchantment of the boxing spirit.
Lads reared in granger land so seldom see or hear of pillow punching that their fancies for fighting are not cultivated. Greater Pittsburgh has one case of a hayseed scion taking up swatting for its fun and profit giving sides. Whitey Wenzel, a quondam preliminary pounder was born and reared on a farm. Wenzel stuck to the nature life until he began to grow into a rugged youth then his parents moved to the Northside. He remained at school until he was aged 13 selling "The Pittsburgh Press" on the Northside streets, in leisure moments. When the rush for papers was through Whitey would scurry to his home and apply himself in preperation of lessons for the next day.
This done, an hour for pleasure appeared. It was used in a rather singular way. Whitey has an older brother John, who became "bugs" on sport. His taste ran to wrestlin. He imagined his brawn and brain was fitted to bring him honors in the grappling game. He had to have a tussling partner. Whitey was the fall guy of course. Wrestling pailed on the boys' fancy and Whitey suggested that they buy a set of gloves and sting each other instead scratching skin from face and body. "Agreed" shouted Wenzel, the elder, thinking of the cinch time he would have in burning his little brother.
This thing of getting boxing gloves isn't as easy as it sounds. Loose change had to be scraped up. By dint of hard work and extra hustling on big days. Whitey soon reported sufficient simoleans to buy the coveted hand cases. It was a history making night in the Wenzel domicile when the mitts arrived. The boys couldn't wait until supper was over. They wanted to ram their fists into the gauntlet! have some one tie the strings and then beat everything in sight except the kitchen carpet. The coal house was finally cleared and a regular rough neck show started. The audience on hand was made up of various kiddies from the neighborhood, all invited especially by Whitey's brother who ever gave a significant wink in finishing his invitation.
Five minutes after the young fellows squared away neighbors, in hearing, thought a socialist meeting was going on in that dusky diamond shed. Shouts of "Wow," Um, etc. were wafted through the chinks. Above all the din could be heard Wenzel, senior, puffing and blowing like a sea lion. He had bitten off a bigger chunk of the sponge cake than anticipated. It was a fierce fight and so stirred the spectators that when a wag yelled "Cops" three fourths of the urchins were terror stricken and broke for the door.
After that inaugural event combats in the store pen were almost of nightly occurance. Whitey had proven his right to carry the lumber pile on his shoulder and few dared dislodging the chip. Whitey's brother seeing stiff game ahead suggested "light play". This was suiotable to Whitey who advocated that each club member make it a point to pick up tricks of the sport and then practice them night after night. The fight bee stung three fourths of the shed gang. Wenzel, junior, was one victim. "Me for a box fight some day" he kept telling pals. The boys devoured scrap stories envied older kids who had enough "rep" to get their pictures in the papers.
When under seventeen Whitey's chance to wallop professional arrived. He improved it despite the warning of mates that he needed more work in defense. Young Bijou was Wenzel's first adversary. The combat looked like a walk over for the veteran black bruiser but Whitey proved to be a dark horse. He came up from behind and although not up to snuff in hitting soaked Bijou a couple of raps in the snoute that took all the spunk out of him. The full six were contested. Whitey took the blue ribbon. He also carried home a couple of momentos of the chase that didn't look right for exhibition in polite society. Had two moused eyes, a liver lip and a puffed beak but he also enjoyed the satisfaction of saying to friends, "You ought to see the other fellow."
Wenzel was now well under way in his ambition to become a "box fighter". His display against Bijou opened the eyes of match makers. They made overatures to him for future frays. The white haired youth was immediately given hard tasks. In rapid succession he was paired with Jack Kress, Irish gorgas, the "Fighting Rooster," Billy Hugh, Tommy Lowe, and Al Grayber.Whitey's record shows that he didn't disgrace himself in any of these matches. He showed handsomely and without any backsets until a match maker slipped a cog and pitted him with a darkey named Jack Killibrew, who outopped Whitey in poundage and stature. Despite the double handicap the Northside lad tried his best and got more than the usual fan encouragement that is given the underdog. Bugs rooted for him with might and main, but Killibrew took the trick. The writer recalls this affair. It was an Old City hall preliminary and from the first round it was plain to every man present that Killibrew outmatched the ex-framer boy. Once "on", however, there was no chance to remedy the discrepancy in avordupois or inches. Whitey had to stick to his knitting, although it was a forlorn hope.
Jock Simcoe, the Tube City veteran, made a trip to New York city and fought cleverly. He was reputed to have found a bunch of new things in the east. Came home and sought work here. Some one suggested to Wenzel that he go to McKeesport and risk a siz-round mill with the energetic Slav. Whitey was willing, and with a band of rooters started for the scene of action. Wenzel expected to "get his," but he told pals "that's all in a life time." Ringsiders began to smirk when they noticed Whitey climbing into the ring. "Knock him this way, Jock." "Is there an undertaker in the house?" This was the style of bandinage spun by jokesmiths. Wenzel stepped to the ring center with all kinds of confidence. He was fully aware that "Simcoe had "something on him" but that didn't dismay the Northsider. Simcoe waltzed into his man as if doing a stunt in the gym with a "work out".
The first round was a case of shambles. Wenzel went down once, twice, thrice, each time bumping the floor with a bang. He took "nine" once while lying full length and got up just inside of the limit. Simcoe shot his bolt by the mauling he handed Whitey in the opening scramble and, like George Chip, had trouble in recuperating from his own exertions. Wenzel fized his bellows during the minutes rest and when it was two bells he was well spruced up. To his credit he stayed five more rounds with the wicked Simcoe. The latter was glad to give Whitey a bear hug as the bout finished and said: "Youre all right, kiddoo. Stick to the game and you will make some coin." Whitey was delighted with the posies tossed to him by Simcoe. McKeesport papers also added their tribute to Wenzel for his grittiness. They said that it looked like curtains for the visitor in the first round. Had there been pools sold, the auctioneer would have spieled "Simcoe $100, Wenzel $1" and found no takers.
Wenzel doesn't claim to be scientific. He of course has become adept in a few ins and outs of sparring, but assimilation of punishment and ability to hand out the same with interest are his long suits. He won't lay down simply because his nose bleeds, but keeps wading in, swinging and stabbing. He hits heavily and the man who stops his blows doesn't say "Is that the hardest you can swat?"
Wenzel will work all summer on defense and be prepared for a strenuous campaign in the autumn renewals.
--------------------------------------------------------------------------------------------
---The following is an article from the January 11, 1914 issue of the Pittsburgh Press, about Wenzel's second pro fight with Greb:
- written by Jim Jab
Whitey Wenzel and Harry Greb had a return row. It was billed as the semifinal. Insomuch as the battlers are big swingers a "kayo" was looked for. The battle began with a punch swatting bee, in which Greb had the honors. He split Wenzel's lip and puffed one cheek. Wenzel began to close in the second. He showed better. Greb stopped a daisy with his face and bled freely. Greb was fighting wildly at the bell. The third was full of hard fighting. Wenzel was tired but kept at his knitting. Round four was much similar. In the fifth Greb showed front in the fifth and sixth but Wenzel wasn't disgraced. Lots of men called it a draw but a better rulling looked to be a show for Greb.
--------------------------------------------------------------------------------------------
---The following is an article from the April 16, 1915 issue of the Pittsburgh Post, about Wenzel's sixth pro fight with Greb:
- written by Leslie C. MacPherson, Jr.
Wenzel Has Slight Shade On Garfield Middleweight In Terrific Encounter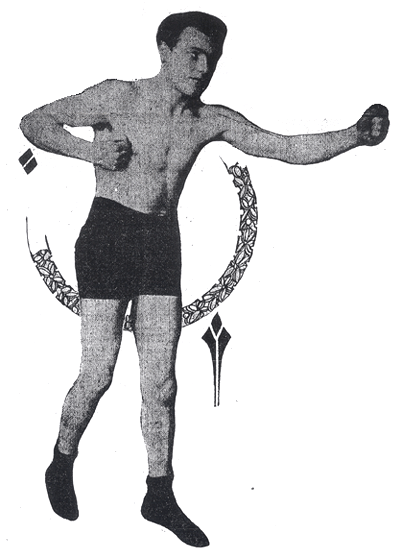 For the past eight months or so the Red Cross has been doing a land office business on the battlefields of Europe, and is likely to continue for some time, but right here we want to inform those heroic women who are doing humane duty in the old country that they had better send a delegation, including an accommodating and popular undertaker, to the scene of the next fight between Harry Greb and Whitey Wenzel. For, as sure as fate, one or the other, probably both, is going to be killed, mangled beyond all recognition.
Greb and Wenzel are not like any other fighters we know and are not likely to ever become a champion, for, unlike Freddie Welsh, Mike Gibbons and others who insist upon counting the paid admissions before entering the ring, Whitey and Icky really fight because --well, because they want to, we suppose.
As Bull Brown, who insists he is an umpire, and is going to work at his trade this season, so aptly put it: "There ain't nothing clever about these two, but they sure do kick the tar out of each other, and that's why I like to see them fight."
Two amiable wildcats fighting over a hunk of raw meat couldn't have given a better exhibition of the mauling game than did Whitey and Greb last night in their little six-round setto before the Hiland Club in the East End. It was one grand battle, and the crowd, which by the way, numbered close to 1,200, almost went crazy over the mill. It is a pretty difficult question to decide just who had the better of the fuss, but after summing up all six rounds we are inclined to give Wenzel a slight --very slight--shade.
GREB SLOWS UP
Greb fought himself out after three and one half rounds and the Northside Dutchman, apparently as fresh as when he began, tore in and earned a slight advantage. Fight? You never saw anything that resembled it.
Had the kaiser an army corp of Whitey Wenzels when he started that little European fuss last summer he would, as he said at the time, have eaten his Christmas dinner in dear Paree and could have gone right over and partaken of his New Year's meal in London. In fact, he could have made Cousin George go down to Whitechapel and be satisfied with a plate of beans. From this you can guess that the East street Dutchman, Wenzel by name, fought "some fight".
Don't however, overlook the fact that Greb was in the running. In fact, Jimmy Mason's young protege started out as if he intended to clean up all of the East End, and as a result he wore himself out before the finish of the fourth round, allowing Whitey to come back and gain what we believe to have been a very small margin.
Yes, sir, it was one fine scrap. Irvin Cobb, John T. McCutcheon and others managed to get within hailing distance of the European argument, but we are willing to lay a jitney that we saw more real battling inside that 24 foot ring at the Hiland Club last night than they witnessed all of last winter. The main bout was only one of the features, for the three preliminaries were almost as good, one especially holding his own with the windup.
GREB"S WHIRLWIND START
Greb started off like a sure winner. He brought up his 42-centimeters and without ever waiting to lay a concrete foundation commenced to shell Whitey in the vicinity of the heart.
Icky threw enough right handers into Whitey's body to put an ordinary fighter down and out, but as we said above, Whitey (and Greb for that matter) is not an ordinary fighter, and instead of breaking ground, the Northsider just came back for more and incidently handed out a few slams himself. The first three rounds, however, were Greb's; there is not any doubt as to that, but after about two minutes of the fourth, Wenzel commenced to show to a little better advantage and by the time the fifth was finished he had Greb on the defense.
Greb's mouth and nose was bleeding when he went to his corner at the conclusion of the fifth, and this continued during the final session. Whitey realized that he had the Garfield boy on the run and this fact only made him fight harder than ever, if such a thing was possible.
When the bell rang for the final round, the two were in the midle of the ring doing everything to each other but commit murder, but it was noticed that Greb was the more tired of the pair.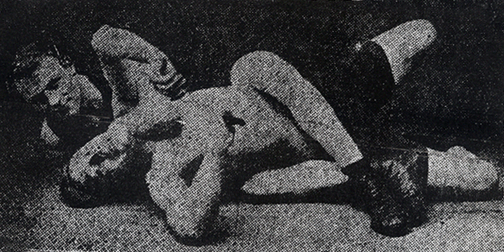 These pictures show Whitey with his older brother. They were in the Pittsburgh Press. May 26, 1912.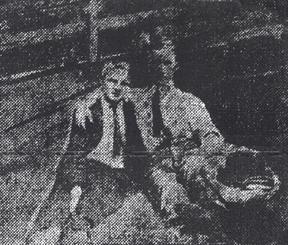 _______________________________________________
selected bouts
1910 
Aug 4	1910	Young   Bijou		Pitts.			ND 6 (draw) Whitey's first professional fight.
Nov 7	1910	Jack    Kress		Pitts.			ND 6 (draw)
Nov 14	1910	Irish  Gorgas		Pitts.			ND 6 (loss)

1911
unknown	1911	Jack   Kress		Pitts.		ND 6  (took place before January 21, 1911. Documented in the Pittsburgh Press. June 9, 1912.)
Jan 11	1911	Bobby (Kid) Hughes	Pitts.			ND 6 (draw)
Feb 18	1911	Tommy    Lowe		Pitts.			ND 6 (loss)
Mar 4	1911	Al    Grayber		Pitts.			ND 6 (win)
Mar 10	1911	Jock   Simcoe		Penns.			ND 6 (loss)
Nov 1	1911	Cy   Ketchell		Pitts.			ND 6 (draw)
Nov 4	1911	Jack Killebrew		Pitts.			TKO'd by 2  (loss)

1912
Oct 19	1912	Al   Grayber		Pitts.			KO'd by 2
Dec 17	1912	Mark   Beers		Penns.			ND 6 (win)
Dec 18	1912	Mark   Beers		Penns.			L 6   (Joe Donnelly of Pittsburgh was the referee).

1913
Apr 28	1913	George Lewis		Ohio			ND 6 (draw)

1914
Jan 1	1914	Harry   Greb		Pitts.			ND 6 (D news)
Jan 9	1914	Hary    Greb		Pitts.			ND 6 (W news)
May 29	1914	Harry   Greb		Pitts.			ND 6 (D news)
Jul 10	1914	Swats Adamson		Pitts.			ND 6 (win)
Aug 24	1914	Harry   Greb		Pitts.			ND 6 (W news)
Sep	7	1914	Kid    Smith		Pitts.			ND 6 (win)
Oct 12	1914	George Lewis		Pitts.			ND 6 (loss)
Oct 31	1914	Al   Grayber		Pitts.			ND 6 (win)
Nov 16	1914	Kid    Smith		Pitts.			DQ 4 (win)
Nov 28	1914	George Lewis		Pitts.			ND 6 (win)
Dec 26	1914	Steve Gibson		Pitts.			KO 3 (win) Wenzel knocked him out with a right uppercut to the jaw.

1915
Jan 7	1915	John   Foley		Pitts.			ND 6 (win)
Jan 14	1915	Battling Sherbine	Pitts.			KO 4 (win)
Jan 23	1915	Frank  Duffy		Penns.			KO 2 (win)
Feb 1	1915	Kid    Smith		Pitts.			ND 6 (win)
Mar 4	1915	Harry   Greb		Pitts.			ND 6 (L news)
Mar 16	1916	Bud    Logan		Penns.			ND 10 (loss)
Apr 15	1915	Harry   Greb		Pitts.			ND 6 (W news)
May 24	1915	Harry   Greb		Pitts.			ND 6 (L news)
Sep 28	1915	Fay   Keiser		MD				L 10

1916
Jan 1	1916	Al    Rogers		Pitts.			ND 6 (win)
Jan 17	1916	Al    Rogers		Pitts.			ND 10 (win)
Jan 25	1916	Eddie Mullaney		Ohio			ND 8 (win)
Feb 15	1916	Jerry   Cole		Pitts.			ND 6 (loss)
Mar 11	1916	Kid    Manuel		Penns.			ND 10 (win)
Mar 21	1916	Jerry   Cole		Pitts.			ND 6 (win)
May 6	1916	Harry   Greb		Penns.			ND 6 (L news)
Jun 17	1916	Harry   Greb		Penns.			ND 10 (L news)

1917
Nov 28	1917	Jimmy Wilson		Ohio			KO 7 (win)
*Note-Wilson was knocked down and his head struck the edge of the ring stage. He suffered a fractured skull and died on November 29. Wilson was from Texas and had come to Akron in the spring 1917.
Nov 30	1917	Charley Schons		Penns.			TKO 3 (win)
Dec 3	1917	Buck  Crouse		Penns.			ND 10 (draw)
Dec 25	1917	Harry   Greb		Penns.			ND 10 (loss)

1918
Apr 16	1918	KO Willie Loughlin	Penns.			KO'd by 5 (loss)

1919
Feb 14	1919	Al   Grayber		Penns.			ND 10 (draw)
Mar 8	1919	Al   Grayber		Penns.			ND 10 (win)
Jun 23	1919	Johnny Howard		NewJer.			ND 8 (loss)

1920
unknown

1921
Feb 7	1921	Jack   Burke		Pitts.			ND 6 (loss)
Feb 22	1921	Kid    Smith		Pitts.			KO 2 (win)
Apr 4	1921	George  Chip		Pitts.			ND 10 (win)
May 2	1921	Steve Choynski		Pitts.			ND 10 (loss)
Jul 25	1921	Kid Crutchfield		Pitts.			ND 10 (loss)
Aug 4	1921	Young Jack Dempsey	Penns.			ND 10 (win)
Dec 24	1921	Leo     Fink		Penns.			KO 1 (win)

1922
Feb 14	1922	Gene  Tunney		Philad.			KO by 4 (loss)




IF YOU HAVE ANY FURTHER INFORMATION ON WHITEY WENZEL 
PLEASE E-MAIL ME


www.harrygreb.com