Miscellaneous
***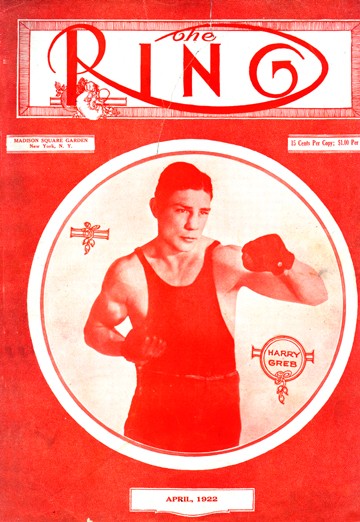 The third Ring Magazine published was April 1922.
Harry Greb was on the cover.

Personal punching bag owned and used by Harry Greb displayed with some exceptional vintage photos of Greb. This was auctioned on Ebay in 2004.
The punching bag was originally given to noted Boxing collector Joel Platt by Greb's sister many years ago. The Platt collection was recently auctioned off by Guernseys auction House and this was one of the many boxing items auctioned in the collection. Guernsey is also the auction house which recently auctioned off Mickey Mantles family's personal Mantle memorabilia and awards, an auction which made national news. This display is quite large 31x39 is in excellent condition and includes some great photos of Greb and features the Rawlings Sporting Goods leather punching bag that was used by Greb in training, sepia tone 8"x10" image of Greb and Tunney, b&w 8"x10" image of Greb and G.Chip, and large 14"x23" vintage promotional photo of Greb with fasc. autograph.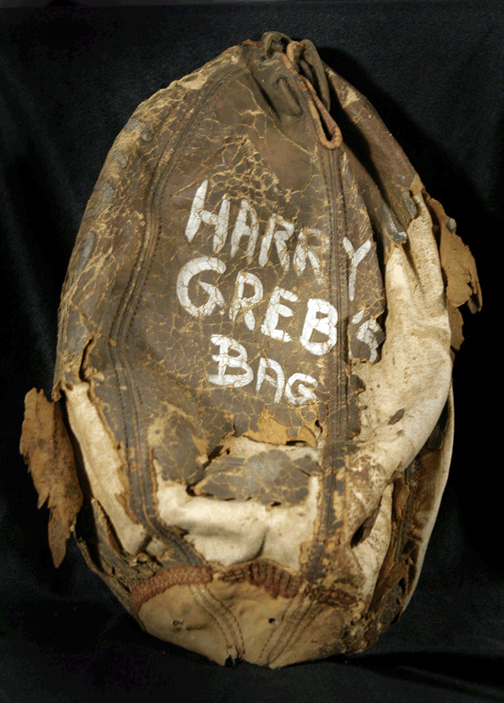 Harry Greb Boxing Training Punching Bag. Shown here is a training punching bag of Harry Greb's. This is a leather punching bag with no manufacturer's label. Painted on the well worn exterior is, "Harry Greb's Bag." LOA from Craig Hamilton of JO Sports, Inc. states in part that this is a vintage 1920's punching bag and that there is photographic evidence it was part of The Ring Museum founded by Nat Fleischer. LOA from Toby Weston Cone indicating it was from her father's collection and part of The Ring Magazine Collection. Auction House Geppi\'s Memorabilia Road Show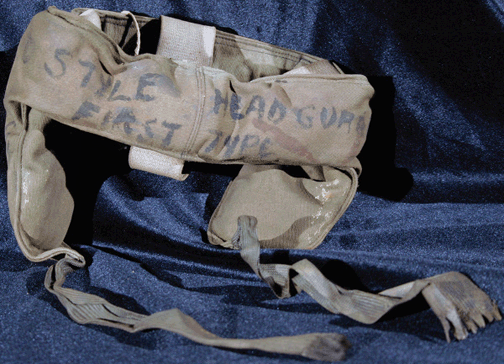 Harry Greb Boxing Head Guard. Shown here is a leather head guard used by Harry Greb during training. This well worn head guard has no manufacturer's label and has been painted, Old Style Head Guard. Craig Hamilton of JO Sports, Inc. dated the head guard to circa 1920. He further found that the paint on the head guard was consistent with the paint used on other items housed in The Ring Museum of Nat Fleischer. LOA from Toby Weston Cone stating it was from the collection of her father, Stanley Weston, and was formerly part of The Ring Museum created by the founder of Ring Magazine, Nat Fleischer. Auction House Geppi\'s Memorabilia Road Show.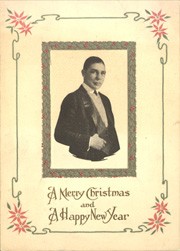 A holiday card with Harry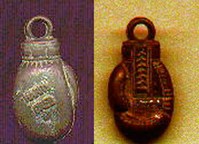 HARRY GREB BOXING GLOVE CHARM
Copper Boxing Premium. Fantastic detail on this boxing glove.
Reads: HARRY GREB across the glove. Measures 1 1/8" long by 5/8" wide.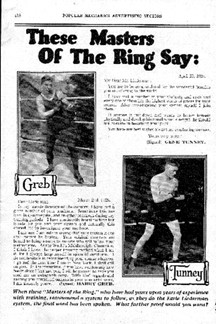 Popular Mechanics magazine ad with Greb and Tunney.

A diecut poster advertisement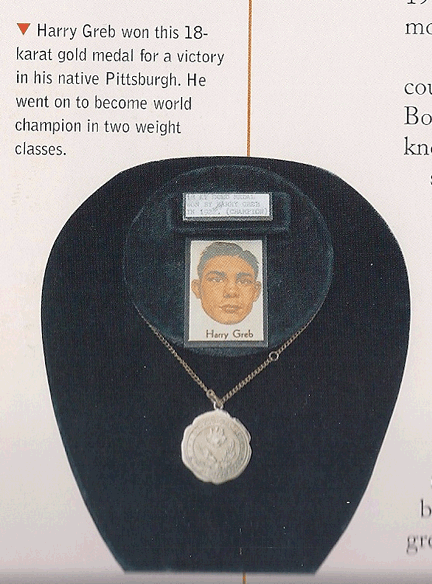 This medal was won by Greb in 1922 for winning a light heavyweight bout. Billy Conn had it as part of his personal memorabilia collection, because he was such a fan of Greb's. One of Billy Conn's sons gave it to Joel Platt to borrow but Platt turned around and sold it instead of returning it to the Conn family.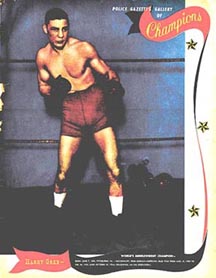 this magazine poster from "police gazette" was supplied by Dave Mozan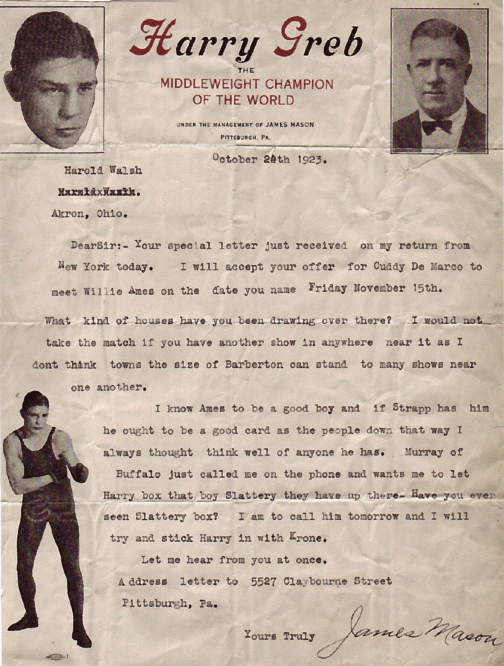 A one page typewritten letter from James Mason the manager of Harry Greb and top lightweight Cuddy DeMarco. Mason was writing to promoter Harold Walsh regarding possible matches for his fighters. Willie Ames (defearted champions Johnny Dundee, Steve Kid Sullivan and Charlie Phil Rosenberg) is accepted as an opponent for DeMarco and Mason mentions that he will try to have Greb box "Krone" (Harry Krohn, a lightheavyweight). He also mentions future champion Jimmy Slattery as a possible opponent for Greb.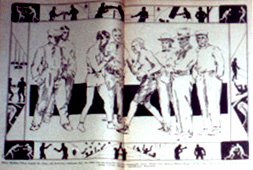 This is a sketch that harry Greb actually drew. It is a drawing of the Gans vs. Nelson fight.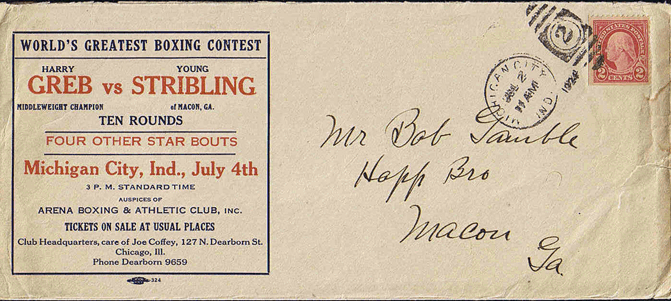 The picture of this envelope was supplied by www.championsofthering.com
Go there to purchase this great item.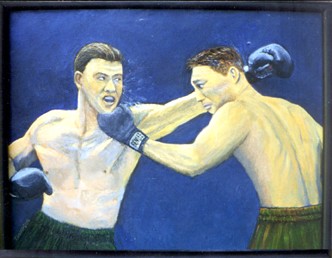 Painting of the famous Greb/Walker fight.
Painted by Thomas Thompson
The original is 16" x 20" oil on canvas board.
The original is for sale for $350. Art prints can be bought for $55 each.
E-mail me if you are interested in purchasing the original or prints.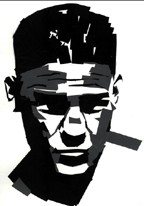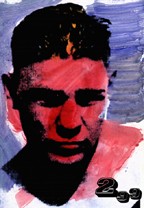 These two pieces were done by Nick Bond Jr. from England. The first was done using electrical tape.

TATTOO'S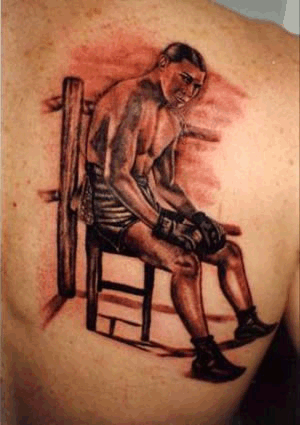 These 2 tattoo's are from this website
http://www.nigelkurt.com/gallery/tattoos/

If you have anything that can be added to this page please e-mail

www.harrygreb.com