Boxing Gloves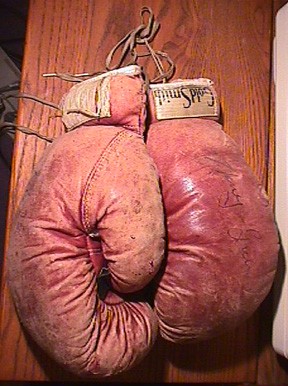 gloves supplied by Don Scott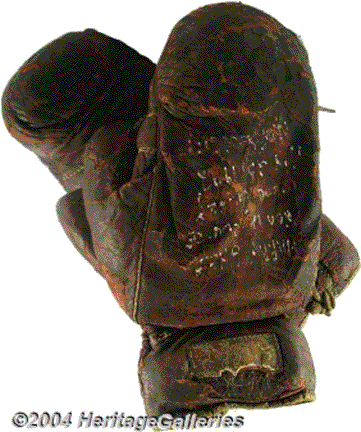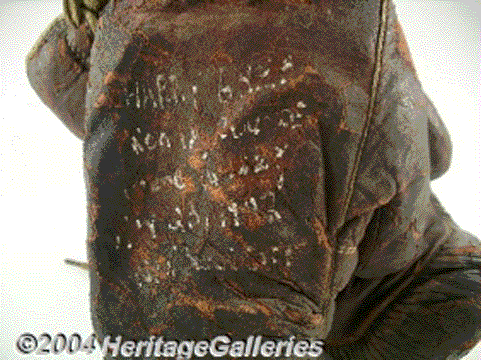 Harry Greb 1922 Fight Worn Gloves From The Gene Tunney Bout
Greb is the only man to have defeated Tunney, decisioning him in 1922 for the vacant American Light Heavyweight title. Here are the historic gloves Greb used in that contest. These gloves show expected wear, with tears just above the labels on the wrists and cracking in the leather. Each glove has the remnants of white paint that was applied by the staff at "The Ring" magazine which reads, "Harry Greb Won 15 Rounds Gene Tunney May 23, 1922 New York City." LOA from former "Ring" magazine employee Grant Elvis Phillips, in addition to an LOA from Craig Hamilton/ JO Sports.
Auctioned on ebay in 2004 by Heritage Sports Collectibles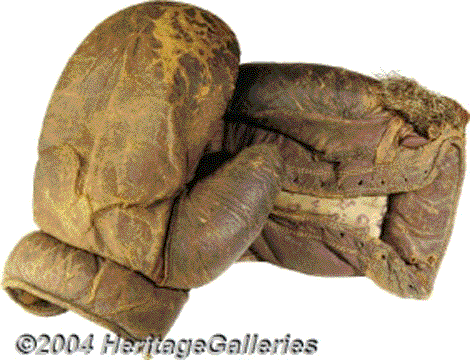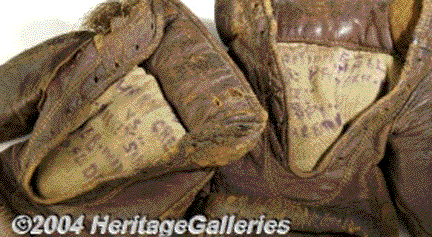 Harry Greb 1920 Fight Worn Gloves From Mickey Shannon Bout
Here are a pair of fight worn gloves used by Harry Greb in his fight with Mickey Shannon on October 28, 1920. The fight was held in Pittsburgh and Greb won a 10 round decision. The gloves come from the collection of fight trainer Jimmy DeForest. DeForest labeled the gloves inside. The right glove has written "'ICKY' HARRY GREB vs. MICKEY SHANNON GREB-WINS 10RD. DEC." The left glove has written inside, "-PLACE- EXPOSITION HALL PITTS: PA: YEAR: 1920 'DUKE' TO HAPPY CHEERIO." The gloves are missing the laces. The leather is worn and on the right glove at the wrist there is a hole exposing the horsehair interior. Still, in overall good condition for an 84 year old pair of gloves. LOA from Craig Hamilton/ JO Sports.
Auctioned on ebay in 2004 by Heritage Sports Collectibles

If you have anything that can be added to this page please e-mail

return to Harry Greb Website Homepage