Billy Roche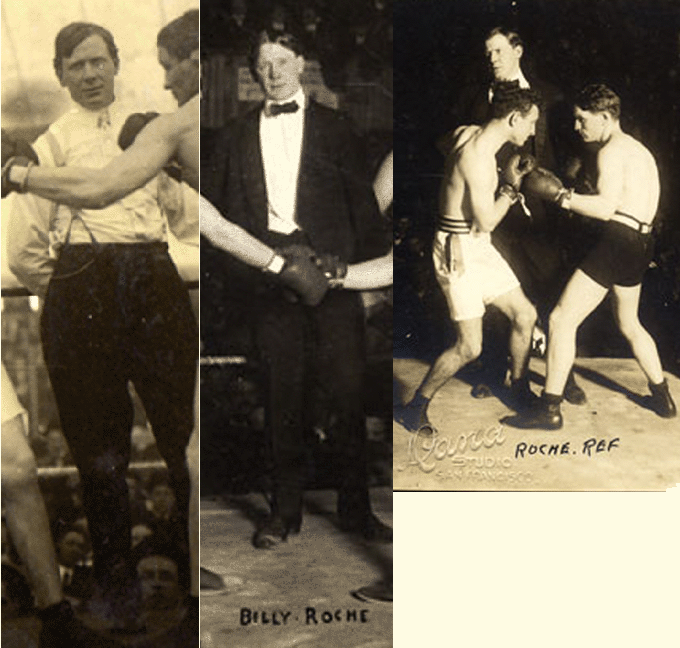 BOUTS HE REFEREED
selected bouts
Dec 20	1904	Battling Nelson-Jimmy Britt		Calif.	W 20	(Britt won)
Aug 26	1905	Jimmy Gardner-Buddy Ryan		Chicago	15 rounds
Nov 22	1907	Owen Moran-Frankie Neil			Calif.	TKO 16	(Moran won)
Mar 14	1908	Thompson-Murphy	
Sep 14	1917	Harry Greb-Jack London			NewYork	TKO 9	(Greb won)	




________________________________________________
In the Chicago Colma Pavilion on August 26, 1905, Billy Roche refereed the exciting fight between Jimmy Gardner and Buddy Ryan. Here is a article from the Milwaukee Free Press on August 27, 1905 asking if the fight was fixed. Billy Roche plays a pivital role:
WAS FIGHT FIXED?
Many Rumors Afloat On The Coast Anent Bout.
CLAIM THAT IT WAS A FAKE
Agreement Said to Have Been Made to Have Contest End in Fifteenth Round.
San Francisco, Cal., - Aug. 26. As weird a finish almost as that of the Sharkey-Fitzsimmons contest at Mechanics' Pavilion years ago was that between Buddy Ryan and Jimmy Gardner at Colma.
The thing smelled to heaven and about the only thing that saved the prize ring game from a full sized scandal was the fact that Referee Billy Roche had the grit to declare all bets off on the event.
Just how much money would have changed hands on the contest is not known, probably somewhere in the neighborhood of $20,000. When the market opened the men sold at even money, and later on 10 to 8, Gardner favorite.
They were betting 10 to 4 1/2 that Gardner would win and even money that he would do the trick in fifteen rounds.
Right up to the moment when the confusion began in the fifteenth round the affair was a highly satisfactory one from a sportsman's view...
-Milwaukee Free Press. August 27, 1905






IF YOU HAVE ANY FURTHER INFORMATION ON BILLY ROCHE
PLEASE E-MAIL ME

www.harrygreb.com