Autographs
autograph supplied by Don Scott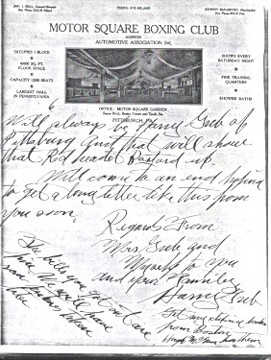 I am re-writing the entire letter so you can read it. Harry wrote the letter to George Engel. it was written on Motor Square Boxing Club stationary. Shown above is the last page of 6.
Jan 6th
My Dear Pal George,
Your letter recieved today and was very glad to hear from you. George I sure am glad I made the change I did in making you my manager. Now since it is done I am really very happy and would not take twenty thousand dollars cash to go back to him.
He has his hamer out knocking already but everybody knows Red Mason. Well George I have been training for the last four days and now i am in pretty good shape and from now on with about four days notice will be able to take on any fight you arrange.
If I were you I would get in touch with Tartorich in New Orleans as Mason had me matched there with Happy Littleton for 15 rounds to a decision and he was to recieve twenty five hundred with the privelidge of twenty five per cent of the house with all expenses, but I am sure you can get more than that.
I was talking to John McGarvey matchmaker of the Motor Club here and I gave him your address he is going to get in touch with you for a bout with Tommy Gibbons he said he would give 33 1/3 per cent of the house but I think you can get a guarentee of five thousand with the priviledge that would be ten rounds no decision and I am sure I can beat him but try to get him to make one sixty three at three oclock the last time we were to do that weight but he lost his fastest and I weighed in at one sixty one and he weighed 168. But still I beat him easy. I think it would be a good match for me here.
Well George how about the Flat we are anxious to go to New York City and you and I can work together better see what you can do for me to go there the first of next month.
That certainly was a nice write up Walter St. Devcis had about you. Am enclosing a clipping out of the days paper what Mason said to send a story in the papers here that I am a big booster for Pitts and that I will travel all over the world to box but it will always be Harry Greb of Pittsburg. And that will show that Red headed Bastard up.
Will come to an end hoping to get a long letter like this from you soon.
Regards From Mrs Greb and Myself to you and your family
Harry Greb
The bills you got out are fine. We will have some pictures taken later.
Get my chfinq books from Boston, Hugh McGregor has them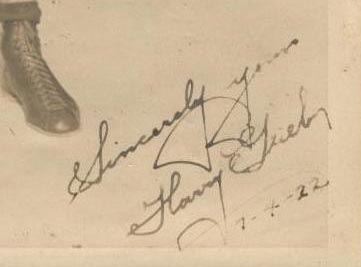 If you have anything that can be added to this page please e-mail

return to Harry Greb Website Homepage